Availability:

Available to Order
Crush by Durango Women's DRD0089 12" Women's Bandana Western Boot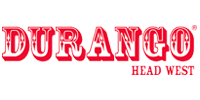 Crush by Durango Women's DRD0089 12" Women's Bandana Western Boot
$238.00
Save 20%
Tax excluded
Description
Crush by Durango Women's DRD0089 12" Women's Bandana Western Boot
"¢Each pair comes with six bandanas and an antiqued pin!
The Crush by Durango® Women's Bandana Western Boot allows you to customize your boot for a variety of looks. Match your footwear to the color of your outfit or today's attitude "" it's easy with this cowgirl boot.
This women's western boot comes with six bandanas: two red, two blue and two white. Wear them on one boot or on both. Wear one, two or all six of them for your personal creation. You even can twist or braid them together. Secure them to your boot by tying the ends or use the enclosed antiqued branded metal pin.
Durango adds to the fun, flirty style with a 2 ¾-inch heel. The women's boot also has a fashionable snip toe. Created from tan manmade material, the 12-inch boot has a light embroidery in a fancy design. Style elements continue to the underside of the boot where you'll find a smooth filigree finish on the rubber outsole. Be sure you kick up your heels and have some fun so everyone can see that great detail!
In addition to looking great, the rubber outsole is a useful feature. It provides extra grip on smooth surfaces, so you can walk into any situation with confidence.
This also is a comfortable western boot. The bandana boot has a Cushion Flex insole for comfort and cushioning whether you're stepping or standing. A tempered steel shank gives you arch support, and a mesh lining circulates air to your foot.
You don't need to fill your closet with different pairs of cowgirl boots "" just get this customizable boot and save your cash for another splurge. Durango gives you six bandanas and an antiqued pin for your personalized creations. So get the Bandana Western Boot and get started!
Tempered steel shank
Mesh lining
Cushion Flex insole
Snip toe
Man-made upper with embroidery
12 inches in height
Rubber outsole with smooth filigree finish
Shaft height and circumference may vary by size
2 3/4" heel
15-inch calf circumference
Comes with three bandanas per boot: two red, two white, two blue, plus an antiqued metal branded pin
Weight: 2.7 pounds per pair for a size 8