Availability:

May Require a few days lead time
Milwaukee's - Drysdale Water Proof
Milwaukee's - Drysdale Water Proof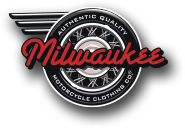 $321.99
Save 30%
Tax excluded
Description
Description
The men's Drysdale by Milwaukee Motorcycle Clothing Company is our first water proof boot.
 Made from a premium full grain leather and a full lace to toe.
 Inside each pair, we offer Freedom Flex construction.
The mid-sole of these unique boots is crafted to conform to the natural bend of the arch of your foot
, allowing you to bend and move more freely.
 Also features a welted construction sole plus a removable washable insoles, offering the highest
levels of durability and comfort a motorcycle boot can offer.
 Whether you're wearing your Milwaukee Boots to ride or to work, rest easy knowing that your
footwear is built to last as long as you do.
Available Sizes